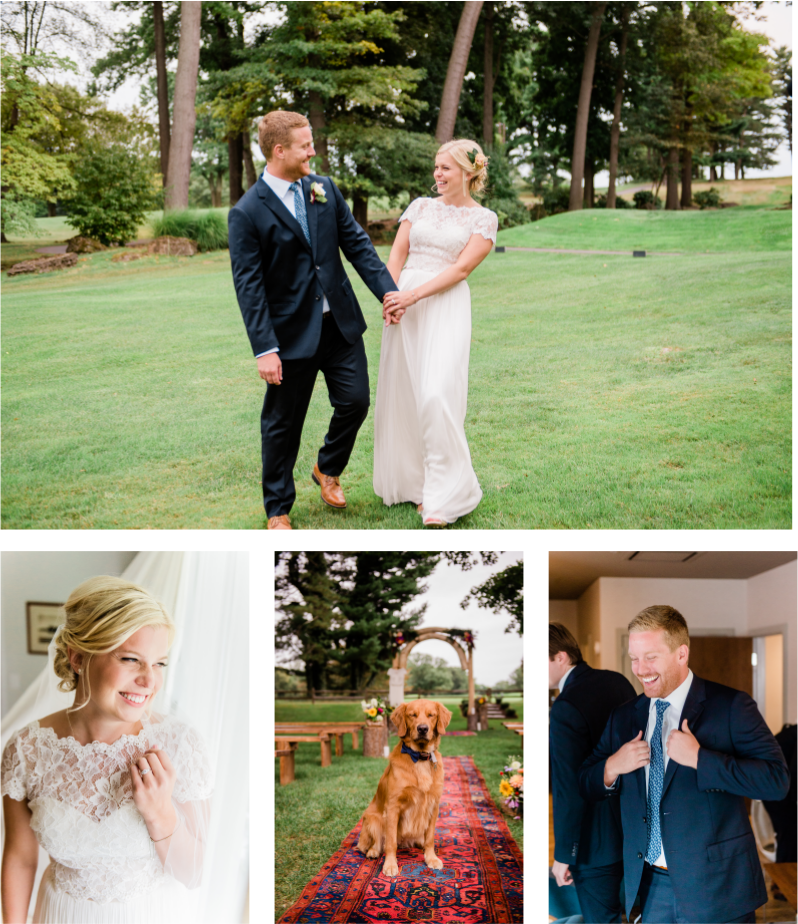 I think I may have been just as excited for this boho backyard wedding as Kelly and Dan were. Kelly is just like me- planning and organizing are her forte. So, from before their engagement session up until days before the wedding, we'd go back and forth on their wedding plans and I'd get updates on all the pretty details they were arranging and continually get more and more excited for September 8th. To say I was stoked for this boho backyard wedding was an understatement.
As much as I love photographing candid moments between the couple, it sure is fun taking detail shots when details are planned perfectly. Oriental rugs, gorgeous wildflowers, vintage flair and hints of boho rustic vibes were the perfect accents to her parents' gorgeous backyard where they held the ceremony. Normally, I had been bringing my own styling kit to weddings for detail shots including ribbons, stamps, a ring box and styling board, but this was the first wedding I brought NOTHING. Yep, nada, and guess what- it was so much better this way! It's THEIR day, and should entirely be filled with THEIR details. And the first shot at this went great. I had so many oriental rug backgrounds to chose from!
But wait, that's not all! The best part, and I know Kelly and Dan would agree, was their dog, Brody who was the absolute star of the show. He got so much love and attention before, after and during the ceremony, that you would have thought it was HIS wedding. Why can't all couples use their cute dogs as their ring bearer??
A gorgeous boho backyard wedding with a cute dog, and an ever cuter couple was a perfect excuse to fly from Colorado back home to Rochester. I love getting these opportunities to come back home and take wedding photos for friends from high school. Plus! I had my favorite second shooter shooting with me- my mom! She's amazing and we make the best team. Enjoy these photos from Kelly and Dan's intimate boho backyard wedding in Rochester, NY. There are quite a few because I had the mooooooost difficulty narrowing them down from the 700+ I delivered to them- whoops!
If you liked this post, you might also like:
Red Rock Canyon Open Space Engagement Session
Steamboat Springs Snowy Mountain Wedding