Since coming to Colorado last summer, I have completely fallen in love with all the beauty nature has to offer. I've become obsessed, in a way, with exploring, adventuring and seeing all that I can possibly see. It's thrilling. It's magical. And it's quite addicting, actually. There's just something about being engulfed in gorgeous landscapes that completely dwarf you in size. Plus, these gorgeous sights make for the most perfect photography subjects (they don't even complain about smiling like someone I know….. Cameron). With a never ending urge to adventure,  I decided to take a week off from work at the end of May to take a 1000+ mile road trip with my mom…… and it was AMAZING. All we could say the entire week was, "WOW". See for yourselves below. The pictures say it all!
Our plan for the trip was this: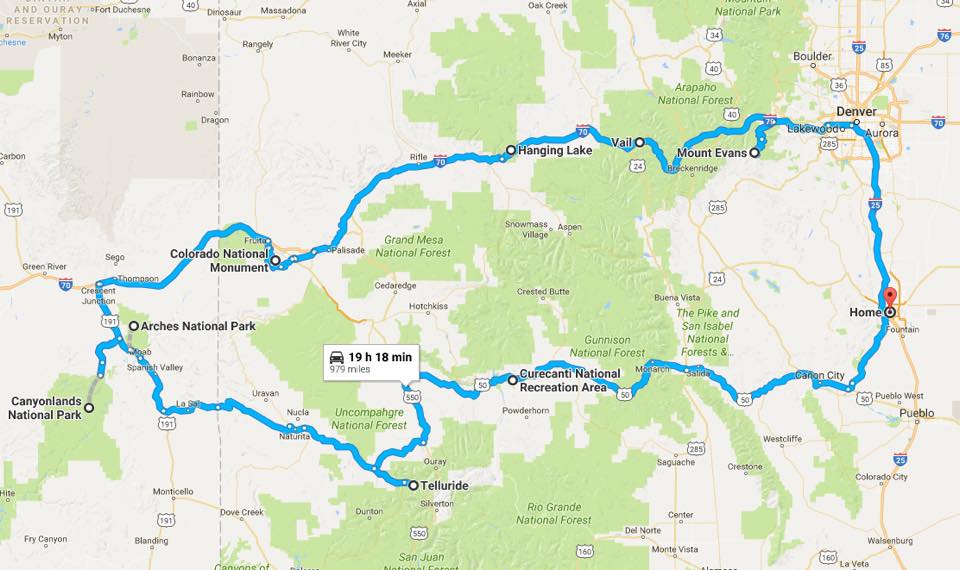 Day 1: Colorado Springs to Curecanti National Recreation Area, then Telluride- night in Telluride, CO
Day 2: Hike in Telluride, night in Telluride, CO
Day 3- Drive to Utah, Arches National Park, night in Moab, UT
Day 4- Canyonlands National Park, night in Moab, UT
Day 5- Arches National Park again, Dead Horse Point State Park, night in Moab, UT
Day 6- Canyonlands National Park, night in Moab, UT
Day 7- Drive from Utah, through Grand Junction, CO, then hike Hanging Lake, night in Eagle, CO
Day 8- Scenic drive back home through the mountains, night at HOME in the Springs
The Mapquest called for about 980 miles of driving, but including all of our additional stops and side trips, we probably did close to 1500.
TELLURIDE & CURECANTI NATIONAL RECREATION AREA
Since moving to CO, Telluride was one of the first places on my never-ending bucket list. Honestly, I didn't even know how to pronounce it, but I knew I just HAD to go there. Unlike Colorado Springs, it's lush there and there are trees other than evergreens, and nice fluffy green grass- it seriously looks like heaven. And not to mention, it's completely surrounded by huge mountains in every direction. Talk about a photographer's dream. I had plans to hike Island Lake, Blue Lakes or even Ice Lake in the area (look them up, they're GORGEOUS), but unfortunately it was too early in the season and they had just gotten a huge snowstorm, so nevertheless, we were unable to do those hikes due to the feet of snow and our lack of desire to trudge through it. Instead, we found another neat hike up Bridal Veil Falls and it was just stunning. Thankfully, there were some small blue "lakes" at the bottom, so I was able to get in my blue lake fix- yay! Even the hike to the trailhead was stunning. We felt like we were in Switzerland. You don't get these views in Colorado Springs. I definitely plan to go back sometime in August once all the snow has melted and I can do my bucket-list hikes! But for now, this did the trick. Oh, also on the way, we stopped at Curecanti National Recreation Area which has the largest body of water in CO and it was super cool. We hiked along a river at the base of a canyon, and it was the perfect pregame to our fun-filled week ahead with gorgeous mountain views.
DRIVE TO MOAB
After two nights in Telluride and lots of adventures, we headed out for Utah. I had looked up more scenic routes to take to get there and found that someone had mentioned the ride through Gateway, CO was just stunning. So that's the way we went! And it sure was- we drove right through a huge canyon and it was gorgeous. I highly recommend driving that way for anyone going from CO to Utah! HOWEVER, the directions I found, took us on a dirt road (that supposedly lasted for 50 miles) called, Dolores Triangle Safari Route. HA- if that doesn't sound like a random road, then I'm not sure what does. We made it about 5 miles on that road, and decided to turn around- after Mother kept nervously prodding, "Allison are you alright, are you sure this is fine??". It probably would have been fine to keep going, but with no cell service, and only a half tank of gas left, we were worried it was a little too risky if something bad happened. So we backtracked and went the normal way. Lots of cows, lots of red rocks, and even a kind couple who gave us a few gallons of gas from their 200-gallon tank because we were worried we wouldn't make it over the mountain pass and into Moab to the nearest gas station.
ARCHES NATIONAL PARK
And we made it to Moab, Utah! Our first stop there was Arches National Park. We spent the rest of the afternoon there on Day 3, and also went back for almost a full day on Day 5, and for the morning of Day 7 before we left. Just wow. So many wows. I can't believe it! I still can't fathom how these arches were made. I mean, I know they were made from moving water, but that's so over my head and I can't fully understand. Understanding or not, they're still amazing and kept us constantly in awe. We tried to see as many arches as we could, and made it a point to hike to all of the accessible ones. Unfortunately, some were closed due to road construction, but the ones we saw, surely did not disappoint. Our favorite was the iconic Delicate Arch that sits out by itself and overlooks the mountains- totally worth the 4 mile hike!
CANYONLANDS NATIONAL PARK
For being only 40 minutes from Arches, this place is absolutely and completely different. Again, it's unfathomable 1) how this was all made and 2) how a place so relatively close to Arches can be altogether different. I mean, just WOW. On the first day, we spent 12 whole hours in the Island in the Sky section of the park. We explored, we ate snacks, we rested on a rock and Mother even fell asleep. And we took in lots of sights. We wanted to stay for the sunset, but didn't think it was worth driving 45 minutes back and forth to Moab to take a break in the day, so we spent the whole day there- we definitely got our money's worth. The sunset was just stunning and the rocks were glowing red! On the second day, we made the long drive to the Needles District section of the park and that was just neat. Again, very different from the Island in the Sky section. The only disappointment with this was that there was no easily accessible way to see the needles up close. Getting close required some long and strenuous hikes and we weren't quite up for that. So we settled with seeing them 5 miles away. Instead, we did some neat hikes across the slick rock faces and had 360 of all the surrounding areas.
DEAD HORSE POINT STATE PARK
Of all the places we visited and saw during the trip, this was by far my favorite. The views were extremely stunning, and all this gorgeousness was right there in front of you. Unlike Canyonlands which was so vast and spread out, this had high density gorgeousness right in front of your eyes. I got up close and personal with the edge to get the best view for pictures, and of course, Mother didn't fail to worry that I was going to fall. We even saw a bride and groom there taking some portraits, so of course I had to sneakily capture a picture of them from behind.
HANGING LAKE
Rather than driving back home the way we came, we took a completely different route further north and were able to make a stop at Hanging Lake along the way. I had been here before earlier in the spring and knew how gorgeous it was, so I made it a point for us to stop there so we could both see it's beauty. Although the hike up to the lake is only slightly over a mile, it's pretty rocky and strenuous. I had told my mom that it was a short hike, but failed to mention that it was strenuous, and she surely was in for a surprise. A few steps in as we're literally walking straight up climbing over huge rocks, she asks, "Is this going to be like this the whole way??"- YES, surprise! It's hard but worth it. Just a note for anyone who's never done it before- it's definitely pretty strenuous but so totally worth it for the views in the end. I still can't believe this place is real. The water is SO BLUE and so clear. We spent about an hour here taking in the sights of the fresh water, and some neat wildlife including an overly brave chipmunk and a bright blue mountain bird.
…. (most importantly) OUR FOOD
In addition to picture taking and sight seeing, no good trip is complete without food tasty food. And beer. Beer is good. Surprised that we took pictures of our food? Good, neither am I.
And to finish off an amazing trip, we went dress shopping on her last day in the Springs! I had gone once before with my cousin in Denver, and found two dresses that I really liked- and one of which I thought I actually loved. I figured while my mom was here, we should go again so she could be involved in the experience. With having only looked at one other place, I had no intentions of buying a dress that day, since I planned to try on at AT LEAST two other shops to get a feel for what was out there and what I really liked. WELL… after trying on 8 dresses that looked good on the hanger, but not so good on me, the lady brought out two dresses she thought I would like. The second one was a total winner. I've always heard, when you know you know, and with this one, I knew right away that it was it. Part of me was hesitant, and inside, I was trying to find every reason not to love it, because I hadn't quite planned to buy a dress that day and this was only my second time trying on. But I got over that I said yes to the dress because it was absolutely perfect and everything I wanted in a dress. And looking back to the one I thought I loved in Denver, this one is 10X better. I can't wait for Cameron to see me in! Now we just have to wait a whole year. Danelle's Bridal in Colorado Springs was amazing and I'm so glad I picked this shop to go to!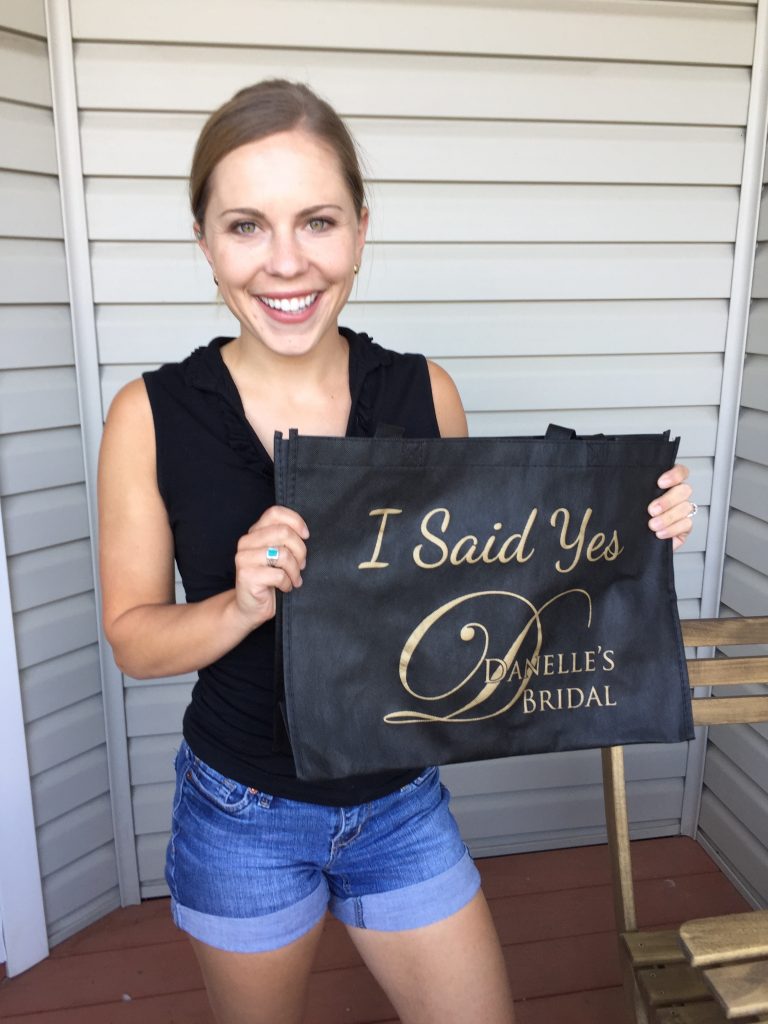 In all, we had the most amazing trip ever. Really, the only thing missing was my sister, Madison. I couldn't have asked for a better week with my adventure buddy. Now I'm just anxious for more (The Tetons, Bryce Canyon, Zion, and Glacier National Parks are all next on the list). Sights like these are WAY too good to sit at home inside watching TV. I never realized before coming to Colorado how much I could appreciate nature. I've always had a love for it, but since coming here, that love has turned into more of an obsession. We really owe it to ourselves to put our phones down, head outside, and see everything this gorgeous world has to offer. There's way too much out there to waste time inside!