How did I get to where I am now?
This is a question I ask myself all the time. As I'm starting to put a lot more additional work into growing my business, I often sit back and ask myself, "how did I even get here"? Well– I started from scratch. As I suppose most people do. But I think what makes my story different is that I never had any intentions of starting a business, it just kind of happened. I've always liked photography, and enjoyed taking pictures, although it was never really an acknowledged skill or hobby. And before I even knew what bokeh (the blur behind the subject in focus) was, I LOVED it and would take pictures of random things around the house to get that effect.
Once I got to college, I bought my first DSLR camera to capture moments between friends and of family for my own personal use. My friends always knew I had my camera around and loved taking pictures. I'd always be the one to document EVERYTHING we did and every outing we went on- even if it was at someplace as sweaty and unaesthetically pleasing as a frat on a Saturday night. Pics or it didn't happen, right?
I think at this point (not at the frat, but at this general time in my life), it clicked that I really liked to take photos. It was so fun to see what I could capture and turn real life moments into pictures that lasted forever. On a whim, I decided to apply to be on the photography committee for Penn State's Dance Marathon (the largest student-run philanthropy in THE WORLD), and made it, and was instantly hooked. I think the mix of falling in love with all that THON was about, seeing how meaningful it was for both children and families affected by pediatric cancer, and taking photos alongside this to capture all the emotions, that I really started to grow as a photographer- and honestly, it was without really knowing it. I just took pictures because I loved it, and I started to grow from there.

Fast forward about one year and I got my very first photography request for a family session over Christmas. When I first saw the message, I panicked. Of course, I was flattered that someone loved my photography enough that they were willing to hire me, but I had not a clue how to even reply. I had never even given doing photography as a business a single thought. So you know what I did? I totally winged it. I went with it and booked my very first paying client (WOOHOO)- and it went SO well. The next year, I photographed a few families, a couple of friends and a few Penn State seniors, and even second shot at a wedding. It wasn't much, but was all I needed. I honestly didn't even really consider myself to be in business, I was just going with the flow and enjoying the fact that people liked my work and were willing to pay me a little for it.

The next year, I booked a few more sessions and was primarily getting traffic from word of mouth. I didn't have a website, Instagram, or even business Facebook account. I eventually figured I needed a website, and created an extremely simple and free website through WordPress. I didn't even have my own domain name, so this was extremely basic (but not the millennial girl type). At this point, about two years in, I was still making things up. Of course, I had grown since my very first request, but it was still a learning process for me. I mean… I had never taken a photography course. Besides learning a little bit from my fellow committee members while I was on the THON photography committee, I had never truly learned how to take a picture. Fun fact- to this day, I still have not taken a photo class. Ever. Just like I winged it when replying to my first request, I figured out photography by winging it and it has actually been really fun and quite rewarding.
It wasn't until a year ago that I FINALLY registered for my own domain name. I set it up myself and figured everything out and went from there. At this point, I was pretty good at running my business and taking photos. The only thing that I really lacked was a any sort of focus on my "brand". I honestly didn't even know, or realize, a brand was something I should be focusing on. Once I moved to CO and had to start everything from scratch, I followed a lot of local photographers and became active and engaged with the Rising Tide Society. From there, I realized how important a business brand was. It's what you represent, and what people think about when they think of you. It's what sets you apart from other photographers. I eventually crafted a vision and that gave me a lot of direction.

Doing so made me realize that there was so much more to photography than taking photos. Until this point, my business mainly consisted of taking pictures, uploading a photo or two from each session to Instagram, and maintaining a decent looking website. Outside of photography, I wasn't putting in much work to grow my brand. But now, it's rather different. I actively think about the way I portray myself in person, on my website and across social media. I spend maybe 20% of my time taking pictures, and the other 80% building my brand and working with clients in the background. I've always made sure to make my clients feel special and loved, but now it's something I focus heavily on. If someone is going to spend $3000 to book me and have me by their side for 8 hours on their wedding day, I damn well better be giving them more than just pretty photos. For me, it's about making their experience as memorable as possible. Whether it's a full day at a wedding, or a mini-shoot with a family, I always go extra lengths to make them feel welcome and help out in any way possible. A great client experience is what my brand is all about. All the way from a kind and helpful response to a wedding inquiry, to giving a non-tech-savy mom explicit step-by-step instructions on how to download images to her computer from the online gallery.
This is what makes people happy. People like to be treated with kindness. I've found that the littlest things go the longest way. Seeing people happy not only with the photos I deliver to them, but with the entire experience they had with me, is an amazing feeling. I've grown from simply taking photos for fun to offering the complete photography experience. Even though this really is, in fact, only a part time job (or well-paying hobby as my mom likes to say). It's a fun contrast to the technical and analytical side of my full-time mechanical engineering job with Harris. Thinking back to the very beginning, and realizing that this all started from scratch is pretty neat. I never had any plan to start a photography business, and now here I am taking wedding photos and trying to build the best client experience. It's so much fun and I'm glad you're along for the ride! I wouldn't be able to do this without YOU.
Now that you know the "how", keep an eye out for my next post that talks about the "why" behind my photography business. Enjoy and have a wonderful day!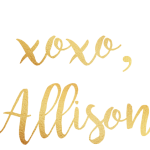 Allison Ranslow Photography | Colorado Springs Portrait & Wedding Photographer